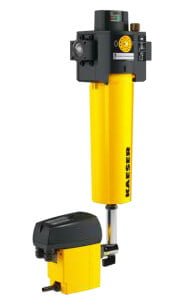 Pure compressed air with lowest costs
KAESER FILTER products are key components in delivering compressed air of all purity classes in accordance with ISO 8573-1 and perform their duties with minimal pressure differential. Moreover, their service-friendly design not only ensures simple, error-free opening and closing of the filter housing, but also allows quick and clean element changes. KAESER FILTER products are available in four filter grades. Nine housing sizes provide efficient filtration for flow rates from 0.60 to 14.20 m³/min.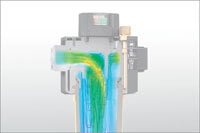 Standard purity
The KAESER FILTER range uses modern deep-pleated filter media to remove particles and aerosols. A highly effective carbon fibre mat traps oil vapours. Together with innovative through-flow, it delivers exceptional filtration efficiency with minimal pressure loss. The impressive performance data of KAESER FILTER products have been determined in accordance with ISO 12500 and confirmed by the independent testing agency "Lloyd's Register".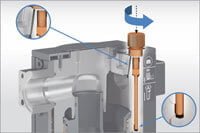 Service-friendly design, safe handling
KAESER FILTER products feature a corrosion-resistant aluminium housing and a stable filter element. The practical bayonet lock ensures automatic positioning of the housing and element seals. Both seals are components of the filter element. This means that a filter housing can be sealed only if a filter element has been inserted. A stop screw prevents unintentional opening of the housing when under pressure and also provides housing venting.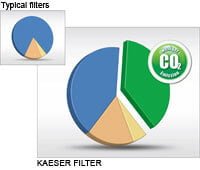 Minimal pressure loss, maximum savings.
The efficiency of a compressed air filter depends most of all on pressure loss. KAESER FILTER products are characterised by generously dimensioned housings and filter surfaces, innovative through-flow and high performance filter media. These features result in up to 50 % less pressure loss in comparison to other typically available filters. In fact their filtration performance remains virtually constant throughout their entire service life. This reduces the burden on upstream compressors and therefore provides significant cost and CO2savings potential.
Source from : www.kaeser.com/Current_Affairs/productnews/Kaeser-Filter.asp